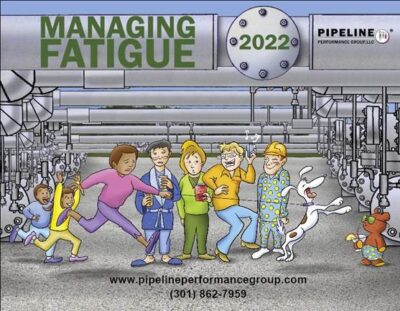 Order your 2022 Managing Fatigue Calendars Today!
Pricing (includes shipping & handling):
$16.95 each for quantities of 1 to 49
$14.95 each for quantities of 50 to 99
$12.95 each for quantities of 100 or more
For ordering assistance, please email Christina@pipelineperformancegroup.com
2022 Managing Fatigue Calendar Topics: 
New Year, New Plan
And the Beat Goes On
Nutrition Matters
Medication Effects and Interactions
Shining Light on the Subject of Fatigue
Are They Up to Snuff?
Creating Your Sleep Sanctuary
The Weight of Sleep Debt
The Science of Sleep
Know Your Limits, Part 1
Know Your Limits, Part 2
Arrive Alive
AND a Fatigue Observations Checklist
Your calendar purchase includes the future e-delivery of a monthly one-page article by our health and fitness expert, Scarlet Knight. In 2022; these monthly articles correspond to each month's calendar topic.